I started my contribution towards Mozilla by getting involved with the Webmaker project.
I still remember, being the club lead of Sathyabama Firefox Club, our very first event was a small little Makerparty. I subscribed to all the mailing lists and IRC as well to chat and get my ideas about Webmaker clear. I explained all about the 3 super awesome tools back then- the Thimble, X Ray goggles and Popcornmaker.
Here is something that I made with popcorn:
I still remember the reaction of my team after knowing how easy it was to create a video when compared to Adobe Flash, or event M$ Movie Maker. We had a lot of fun hacking memes available on the Webmaker website.


Later on, I started attending the teachtheweb calls on Thursday. I got to know a lot of people, webmakers from all over the world. I must also admit that this would be my very first interaction with people all over the world simultaneously.
It was then that I got to know about Webmaker Mentors. Meanwhile, we conducted a lot of Webmaker events and I too was a Webmaker Mentor.


Webmaker grew to be my most favourite project when contributing to Mozilla that I started advising all the newbies to start by contributing to Webmaker. We set up Booths in different colleges and were evangelizing on Mozila. It was a really different experience to explain Webmaker to a moving crowd and getting their feedback on various products and their interests in contributing to Webmaker and Mozilla at large. We had such a lot of feedback by the end of it.


It was after this that we came up with the initiative called KidZilla that aims at teaching school kids about Webmaking, coding basics, Web privacy etc. I was randomly asking community feedback on IRC one day when Laura told me about Emma Irwin, who initiated Webmaker Clubs. We later chatted to discover more super awesome possibilities of collaborating.
It was awesome!

Recently, after working with Kat, we prepared a teaching kit for KidZilla as well. Here is the link: https://dunebuggie.makes.org/thimble/LTE5MzM3MDUyMTY=/kidzilla-teaching-kit
KidZilla activities are always fun since you can never expect anything when it comes to kids.


My first event under Mozilla India would be the Hive Makerparty Pop up in Vizag. I was really happy to have been invited as one of the Super Mentors. It was then that I actually felt that I've contributed something to the community and having this automatically puts a lot of responsibility on me. I felt proud of myself!


It was an event where we not only worked a lot and helped the attendees, we also had a Train the trainer event where I was fortunate enough to interact with a lot of students.
After the Hive event, we had a series of Makerparties in Sathyabama University.
The series started with a WoMoz makerparty organized by Damini.


We had around 100 girls from Computer Science and IT department with a lot of super awesome makes! Women in Technology was a centralized topic.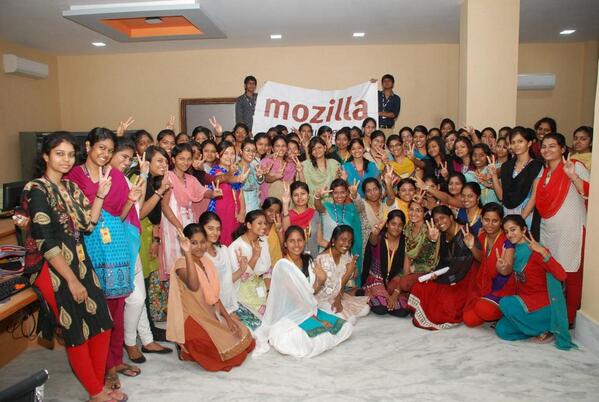 After the WoMoz Makerparty which were restricted to the girls, we had a lot of request from the boys to conduct an event. After repeated requests made to the staffs, we were told to do a makerparty only for the guys! And we named it the BroMoz makerparty! Although the event was restricted to 60 students, we had around 100 makes from the event!


During the Thursday TTW calls, there were discussion by Doug Belshaw on Web Literacy and the web literacy mapper. It was really nice to get the community thoughts on Web literacy and why they think its important. Web literacy Mapper was one of the greatest online resources with so much potential and I was so happy to have contributed by mapping many websites.
I was also a part of the Webmaker Super mentor discussion which included the criteria that define and distinguishes a mentor from a Super mentor, the benefits the super mentors shall have as well the badge design for the Super mentors.
During the Community India meetup, the Webmaker Taskforce were busy on how to promote makerparty and answering queries of the Mentors. We decided to focus more on Web literacy, Appmaker and Privacy and Security perspective of Webmaker rather than just Thimble, Popcorn and X ray goggles. We also discussed about the Collaborate function and hacking together is really fun!


Recently, at the MozCamp Beta in Bangalore, I was lucky enough to meet Bobby, Amira and Michelle from the Webmaker team. Interacting with people you've only mailed or chatted on IRC is always amazing!
We had a breakout session and lots of interactive stuff!


I also showcased my Popcorn video featuring Mozillians from 19 states in India, at the MozCamp. Here is the link:
https://dunebuggie.makes.org/popcorn/24hg
Having initiated a Firefox Club in my university last year, today I am a proud Mozilla Rep who has two Webmaker Super Mentors from my club:
Shashank Gaikaiwari: Shashank is an awesome webmaker and an active localizer who is really enthusiastic about making teaching kits that he has even made a super awesome kit for the Super mentor application too!
Achyuth KP: Achyuth is a frequent participant at the Webmaker geekouts and does some super amazing makes like this one here. You can read more about him here.
Something I learnt while contributing to Webmaker: If something doesn't work, File a bug!
And that's just what I did. Here are my bugs that I filed for Webmaker:
957989
958488
958805
Contributing to webmaker is really rewarding. Which reminds me-I do have a neat little backpack of webmaker badges too. 😀